When MH17's passengers and crew joined Ukraine's war dead
Comments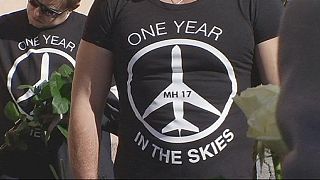 "Ukraine has been remembering the victims of the Malaysian plane shot out of the sky in Donbass one year ago. Like then, Ukrainians have brought flowers and candles to the Dutch embassy in Kyiv," euronews correspondent Maria Korenyuk reported.
While residents in the capital paid their respects, women and children led a procession to the fields where the plane came down, near the village of Hrobove. Pro-Russian rebels still control the area.
Most of the passengers on board MH17 were Dutch, the others Australian, Malaysian, Indonesian, British, German, Belgian, Philippino, Canadian and New Zealander.
One Kyiv resident said: "I don't know what to say. I can understand the relatives' grief. It's a tough time for them. I think all honest and fair minded people are in mourning with them."
Oleksandr Chernenko, a member of parliament in President Petro Poroshenko's Block, said: "We pay tribute to all those killed, but our main aim is to draw the world's attention to the fact that the guilty still haven't been punished."
Ukrainian MPs paid formal tribute to the victims, observing a minute's silence in front of the Dutch mission.
Poroshenko said: "This civilian aircraft and 298 people on board became a target of a ruthless terrorist attack, launched from a territory occupied by the Russian-backed militants in the east of Ukraine. A highly technological weapon, with which the aircraft was shot, could have come into hands of the terrorists only from Russia."
Opinion polls suggest a majority of people in the Netherlands hold Russia responsible. The Kremlin denies any involvement in the downing of MH17.
Our Kyiv bureau chief Sergio Cantone asked Valentin Nalyvaichenko, the former head of the Ukrainian security service (SBU), what firm evidence the authorities have.
Nalyvaichenko said the evidence showed that Russian military personnel brought a modernised BUK 1-M multi-rocket launch system into Ukraine and then removed it.
But Nalyvaichenko added there were "many, many" factors on which he could not comment, since the investigation is not finished.