Ahmed Mansour released by German authorities, says Al-Jazeera
Comments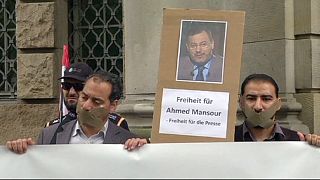 German authorities have released journalist Ahmed Mansour. According to Al-Jazeera he will be released without charges.
مراسل #الجزيرة : السلطات الألمانية تطلق سراح #أحمد_منصورhttp://t.co/AmZNNLEAp4

— Ahmed Mansour (@amansouraja) June 22, 2015
A Cairo court sentenced Mansour to 15 years in prison in absentia last year on a charge of torturing a lawyer in 2011, which he denies.
The Al-Jazeera reporter was arrested in Berlin on Saturday at Egypt's request, and had been held in a prison awaiting news on a possible extradition.
His release comes after pressure from the media, as well as protesters who gathered outside the Berlin court from Sunday night.
"He is actually a free journalist who is expressing his opinion and he stands strongly against all dictatorship and fascist system in Egypt," said Ali Alawady, Chairman of the German-Egyptian Union for Democracy who organised the protest.
Egypt accuses Al-Jazeera of supporting the Muslim Brotherhood which was branded a terrorist organisation after the military ousted president Mohamed Morsi in 2013.