Detained Al-Jazeera journalist protests on social media against arrest
Comments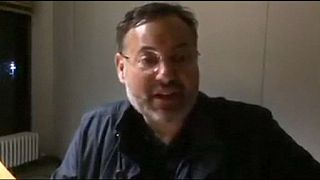 A well known Al Jazeera journalist, arrested in Berlin on Saturday at the request of Egypt has posted a video on social media protesting at his detention.
Ahmed Mansour remains in custody and is expected to face a judge later today who will decide on whether he should be extradited.
In the video the 52-year-old accuses Germany of being complicit with the Egyptian government in trying to silence him.
Mansour and Al Jazeera have dismissed a Cairo court's sentencing him last year in absentia to 15 years in prison. They claim a charge of torturing a lawyer during the uprising that toppled Hosni Mubarak is completely false.
Last month Chancellor Angela Merkel was criticised for not raising the issue of human rights and press freedom in Egypt during a visit by the country's President Abdel Fattah al-Sisi.
Cairo considers Al Jazeera as a hostile organisation which sympathises with the Muslim Brotherhood and former President Mohammed Morsi.
Egypt's treatment of journalists in the country has drawn protests from organisations such as Reporters without Borders.
The arrest of Ahmed Mansour at a Berlin airport has been condemned by his supporters who say Germany is getting involved in a politically tainted case.