Germany: arrested Al Jazeera journalist expecting to face extradition judge
Comments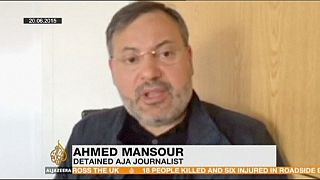 A hi-profile Al Jazeera journalist, arrested in Germany at the request of Egypt, says he is surprised about his detention.
Ahmed Mansour, who is a leading talk show host on the channel's Arabic service, is expecting to face a judge who will decide on whether he should be extradited.
Cairo's criminal court sentenced the journalist to 15 years in prison in absentia last year.
It was on a charge of a torturing a lawyer in 2011 in Tahrir Square, the focus of the uprising that toppled Hosni Mubarak.
Al Jazeera said at the time the charge was false and an attempt to silence Mansour.
The journalist was arrested in Germany on Saturday as he tried to board a flight to Doha.
Critics accuse the west of turning a blind eye towards what they say is the Egyptian government's crackdown on dissent and freedom of speech – in favour of improved economic ties and regional security cooperation.