Church shooting suspect returned to Charleston
Comments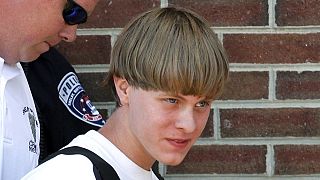 After a 14 hour manhunt, the suspect in the Charleston church killings has been returned to the city where he allegedly carried out the attack.
21-year-old Dylann Roof was arrested around 350 kilometres away in a neighbouring state.
The US Department of Justice is investigating the shootings as a hate crime, motivated by racism.
Charleston County Coroner Rae Wooten described Roof's movements leading up to the murders.
"The suspect entered the group and was accepted by them as they believed he wanted to join them in this Bible Study. After joining them for some period of time, he obvously became very aggressive and violent and it resulted in the deaths of these nine individials."
President Barack Obama described the killings as senseless, adding that this type of violence doesn't happen in other advanced countries.
"We don't have all the facts but we do know that once again innocent people were killed and in part because someone who wanted to inflict harm had no trouble getting their hands on a gun," he said.
Four pastors were among the six women and three men shot dead. Roof's victims' ages ranged from 26 to 87.
A prayer vigil for those killed was held at the historic church on Thursday.