Americans shocked by 'senseless' Charleston shootings
Comments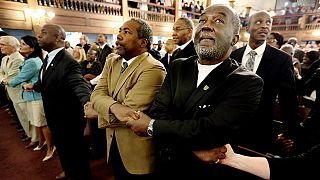 The Charleston church shootings have sent shockwaves through the local community.
All of the victims were black, gunned down during Bible study. The suspect's social media profile suggests a fascination with white supremacy.
Those mourning the dead hope everyone will come together.
"My heart just goes out to the families. All my prayers go out to the families. My prayers go out to everyone for us to come together, be stronger, and to love one another, all the same," said Lawanda Grey, a Charleston resident.
The pain of what has happened in Charleston is being felt right across America.
The attack was described as a "senseless crime" at an interfaith vigil in Philadelphia.
"To hear of how the five-year-old girl pretended to be dead, so the shooter wouldn't shoot her. And to leave someone alive to tell them that you wanted someone to go and tell the story," said Reverend Joseph Bullock.
"To me, it's a senseless crime that needs to end. At this this point, this has no end."
The latest gun violence comes amid turmoil in the US over race relations and law enforcement, stemming from a string of police killings of unarmed black men.