Seoul takes economic action to cushion MERS impact
Comments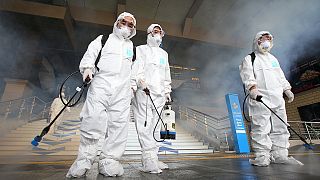 The respiratory infection known as MERS has parts of South Korea verging on paralysis. One village, Jangduk, 280 kilometres south of the capital Seoul, has been under quarantine for a week — with sentries and roadblocks — after an elderly widow returned from a hospital for unrelated treatment but then tested positive. Now Koreans are even afraid to go to hospital.
The Samsung Medical Centre where most of Korea's MERS cases are being monitored has seen a 40 percent decline in patients, and many appointment cancellations.
Public transport in Seoul has a fraction of its usual commuter load. The subway normally carries some 4.5 million passengers per day. The company said that fell to two million on Sunday.
Official Kim Kwang-Heum went further: "After MERS hit, the number declined to 10 percent, which is 450,000 per day. We usually fumigate trains once a week, but Seoul Metro has started doing that every day, to prevent the spread of MERS and protect passengers."
Entire economic sectors have felt the impact of MERS, notably leisure activities. Jamsil baseball stadium has been almost half empty, for games of Koreans' favourite sport.
Experts have voiced concern that MERS could have a knock-on effect from lower consumption, as more people avoid shopping malls. Sales this month are already down 25%, compared to May. Supermarkets as well are feeling the public's fear, with sales down more than 7%.
There were also reports that farmers harvesting fruit have seen orders cancelled.
Policymakers were already under pressure to stimulate the economy as consumers and companies cut their spending and because of falling global exports due to a strong won currency.
A 319 million euro fund to cushion the economic damage has been set up. Some taxation will be eased and the central bank of Asia's fourth biggest economy cut its policy rate to a record-low 1.5%.
One positive sign was a decline in the number of schools and universities that cancelled classes. Following World Health Organisation recommendations, more than 7,000 were shut earlier this week, but by this Thursday fewer than 2,500 were still closed.