What you need to know about the disease called MERS
Comments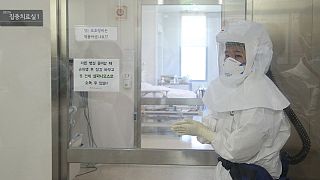 What is MERS?
According to the WHO a typical case of MERS includes 'fever, cough, and/or shortness of breath...'
MERS-CoV (MERS) or Middle East Respiratory Syndrome is a viral respiratory disease caused by a coronavirus, a large family of viruses that cause diseases from the common cold to SARS, or Severe Acute Respiratory Syndrome.

Where and when is it found?

It was first identified in Saudi Arabia in 2012 and has since spread to a number of Middle Eastern, European and African countries and the US. Currently, South Korea is experiencing an outbreak, with nearly 3,000 people under quarantine and much public fear.

What are the symptoms of MERS?

According to the WHO, a typical case of MERS includes "fever, cough, and/or shortness of breath. Pneumonia is a common finding on examination and gastrointestinal symptoms, including diarrhoea, have also been reported." Severe cases can result in respiratory and organ failure. The virus appears to cause more severe disease in people with weakened immune systems and seniors.

How is

MERS

spreading?

It is thought to spread from an infected person's respiratory secretions, such as via coughing.

Relatively new, the virus is not well understood and the medical field does not know its exact source or mode of transmission. MERS is often contracted by exposure to an ill person, usually by residing with, or caring for them. Saying this, it is not as easily contracted as the common cold. Currently, there is no vaccine to prevent infection from MERS.

When to be tested

Visit a healthcare provider if you develop a fever and symptoms of respiratory illness, such as cough or shortness of breath, within 14 days after travel from an affected country or if you have had close contact with someone showing these symptoms who has recently travelled where MERS cases have been reported.

Steps to prevent

MERS

- Regularly wash your hands with soap for a minimum of 20 seconds or use an alcohol-based hand sanitiser. Avoid touching your face and mouth with unwashed hands. – Cover your nose and mouth with a tissue when you cough or sneeze, then immediately discard it. – Avoid personal contact with sick people. – Clean and disinfect frequently touched objects and surfaces.