Syria regime barrel bombs kill 37, monitor says
Comments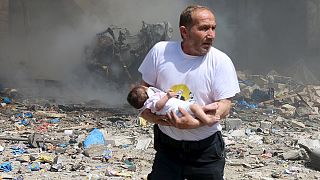 Videos posted on social media on Wednesday purported to show the aftermath of barrel bomb explosions in Tal Rifaat, in the northern Syrian province of Aleppo.
According to the Syrian Observatory for Human Rights, 37 people – including 10 children – were killed when government forces dropped barrels filled with explosives in three northern areas where rebels have been gaining ground.
The Syrian regime has repeatedly denied using such weapons, which rights groups say are indiscriminate and kill a disproportionate number of civilians.
The deadly bombings come as rebels are locked in fighting with Islamic State militants in the region.
Government troops helped by militias have also been battling ISIL advances into the city of Hasaka, in the northeast.
The Syrian civil war has killed more than 220,000 people over the past four years.