Myanmar set to send migrants back to Bangladesh
Comments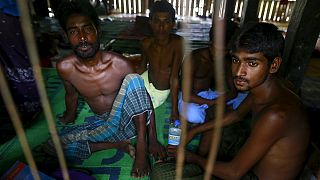 Indonesia is far beyond the shores of the Mediterranean but both share a common problem.
On Saturday over 200 migrants were rescued in a wooden boat off the coast of Mayanmar.
Authorities claim they are from Bangladesh and will be sent back to the country.
Myanmar has faced international criticism for not doing enough to help those at sea or stem the flow of migrants many of whom are Rohingya Muslims fleeing persecution in the country.
Reports indicate thousands have landed in Malaysia and Indonesia this month claiming to be Rohingya Muslims in oder to get UN aid.
Washington has blamed religious discrimination against the group as a root cause of the migration crisis but Mayanmar has denied this contending it is not the source of the problem.
It's estimated by the United Nations refugee agency UNHCR around 3,500 migrants are still stranded in the seas off Southeast Asia since the crisis blew up earlier this month.