Transport misery in Germany as rail union calls week-long strike
Comments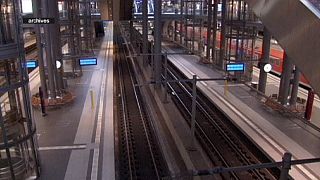 Rail passengers in Germany face a week of disruption following a call by GDL train drivers for a a seven-day strike.
The union is in dispute with rail operator Deutsche Bahn over pay and negotiating rights.
The stoppage is due to start Monday afternoon. for freight trains and Tuesday for passenger services.
Previous rail strikes last year and last month affected millions of people who travel by rail each day across Germany and hit industries reliant on rail freight such as car makers and steel producers.
Germany's usually reliable rail network carries about 5.5 million passengers a day.