Ukraine blaze 'under control' near Chernobyl
Comments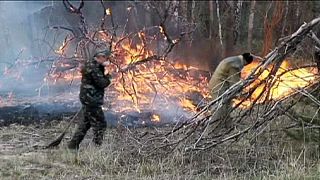 Ukrainian fire fighters have now managed to contain a huge forest fire which was headed for the abandoned Chernobyl nuclear power plant.
The blaze had raised fears of raised radiation levels as high winds pushed it towards woodlands where radioactive particles remain from the 1986 nuclear disaster.
Prime Minister Arseny Yatsenyuk assuaged fears announcing that radiation levels were within the norms explaining that, "the maximum allowed safe level is 50 micro-Roentgen (mR), and in the (Chernobyl exclusion) zone it is now only up to 21 mR, and in Kyiv itself just 11 mR." He also said that a fire on this scale had not been seen since 1992.
Some 300 firefighters, three planes and two helicopters had been sent to contain the fire which began Tuesday morning and spread across 270 hectares of woodland. Although scientists working in the area noted small local fires began on April 26, though the source of the huge blaze is still unknown.
"The smoke could be smelt and seen here," remarked on resident adding, "what kind of radiation could happen here – nobody knows."
The fire comes just two days after Ukrainians marked the 29 year anniversary of the Chernobyl nuclear disaster.
The explosion of reactor number four on April 26, 1986, spread radiation over large parts of Europe.
Euronews correspondent Dmytro Polonsky reports that, "Rescuers have already evacuated the local population, who lived directly inside the Chernobyl exclusion zone. In the village of Dityatki, which borders on the thirty kilometre zone, the radiation level is normal and safe, that is according to State Emergency Service officials."