Russian ISS supply ship spins out of control after launch
Comments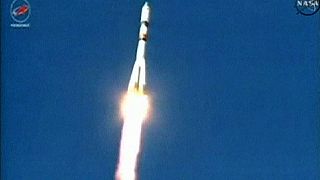 Russia says it has not given up on trying to save an unmanned spacecraft that's spinning out of control and falling towards Earth.
The cargo ship was carrying fuel, water, food and supplies intended for the International Space Station.
Russia's space agency and NASA say the six ISS crew members have sufficient supplies for several months and are in no danger.
But flight controllers have been unable to receive data from the spacecraft which had entered the wrong orbit.
The cargo ship blasted off from Baikonur, Kazakhstan on Tuesday and was scheduled to dock at the space station six hours later.
Russian controllers hoped to seize a backup opportunity on Thursday but failed to make contact.
Unless it be manoeuvred, the ship will re-enter the Earth's atmosphere and burn up – becoming the second ISS supply ship to be lost in the past six months.