Japan PM Abe tells US Congress of 'repentance' over World War Two
Comments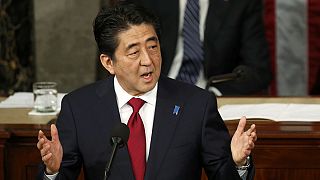 Japanese Prime Minister Shinzo Abe has expressed "deep repentance" over his country's role in World War Two, during a landmark speech to the US Congress.
The first Japanese premier to address such a gathering, his English was slow and deliberate.
But Abe's message was deeply symbolic of the reconciliation between former World Two enemies who are now the closest of allies.
"On behalf of Japan and Japanese people, I offer with profound respect my eternal condolences to the souls of all American people that were lost during World War Two," he said.
Abe spoke from the spot where President Roosevelt asked for a declaration of war against Imperial Japan after the 1941 bombing of Pearl Harbour.
And 70 years after Japan's defeat, he spoke of feeling 'deep repentance' on visiting Washington's World War Two memorial.
But there was no apology from Abe for his country's wartime conduct, including its treatment of thousands of Asian women forced into prostitution at Japanese military brothels.
Mr Abe is on a state visit to the US to discuss a wide-ranging trans-Pacific trade deal.
He and US President Barack Obama have also agreed on new guidelines for defence co-operation.