Italy: 220 migrants rescued off Libyan coast
Comments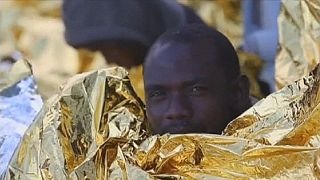 As EU leaders met in Brussels to discuss the growing numbers of migrant deaths in the Mediterranean, more than 200 migrants have been rescued by the Italian Coast Guard, in what is becoming a depressingly familiar operation.
The two dinghies had been drifting more than 60km off the Libyan coast when they sent out a distress call.
Now safe in Catania on the island of Sicily, they were taken to reception centres to begin the long process of seeking asylum.
It's a story which could have ended differently. Since the beginning of the year more than 1,600 migrants have lost their lives in an attempt to make it to European shores.
On Malta the funerals took place for the 24 people whose bodies were recovered from the Mediterranean on Sunday when an estimated 800 migrants drowned in the worst-ever recorded disaster of its kind.
Their names unknown, the bodies were buried with a simple number should their families ever come to claim them.