'Relations with Turkey could improve' Armenian president tells euronews
Comments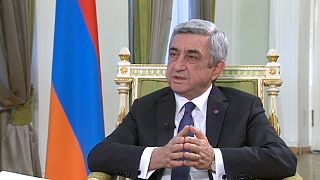 Armenia has renewed calls for the 1915 massacre of up to 1.5 million of its people to be internationally recognised under one label.
As the 100th anniversary of the event approaches, the debate has been reopened over whether or not the deportation and death of Armenians at the hands of Ottoman Turkish forces constitutes genocide.
Turkey denies any genocidal intent, insisting on lack of evidence and claiming the Armenian deaths were a consequence of fighting during World War I.
However, in an interview with euronews, Armenian President Serzh Sargsyan reiterated his country's view that the mass killings should be termed genocide.
"Without a doubt, the recognition of the genocide by the Turks is the shortest path to the reconciliation of our nations. And it is my strong conviction that, if it is done sincerely, I believe, in a short period of time, relations between Armenia and Turkey could reach a new and quite a high level."
Turkey admits that around half a million Armenians were killed, but says a similar number of Turks also lost their lives.
Prime Minister Ahmet Davutoglu has said Ottoman Armenians will be remembered on April 24, 2015: the 100th anniversary of the deportation and deaths.
The European Parliament, France, Pope Francis and – from Monday (April 20) – Germany are among the countries and institutions using the term genocide in relation to the massacre. The US has, so far, refrained.
The full interview with President Sargsyan will be on air and online on euronews.com from 8.20pm CET on Wednesday, April 22.