Bystander who recorded Walter Scott being gunned down speaks out
Comments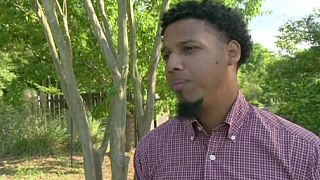 Feidin Santana captured a fatal police encounter with 50-year-old black man Walter Scott on his mobile phone.
His video recording, which shows officer Michael Slager pulling a pistol and firing eight times as Scott runs away, shocked and sickened the world.
Santana spoke out for the first time with NBC's Lester Holt.
"I say, if I would have a family member and that would happen I would like to know the truth about all this," Santana said. "And that was the reason I gave the video to them."
After the video was made public Slager, 33, was swiftly charged with murder, fired from his job, and jailed without bail on the charge that could carry a sentence of 30 years to life in prison.
Police officers in North Charlestown, where the incident happened, will soon be required to wear body cameras, a move ordered by the mayor of the city in the US state of South Carolina.
The shooting comes amid an nationwide debate over issues of trust between police and minority communities, which has been ongoing since black teenager Michael Brown was killed in August 2014 by a white officer in Ferguson Missouri.
It's important we bear witness to #WalterScott's shooting. It's equally important to remember him like this, too. pic.twitter.com/goUmdVAU4h

— reported.ly (@reportedly) April 8, 2015