US police and racial bias under the spotlight
Comments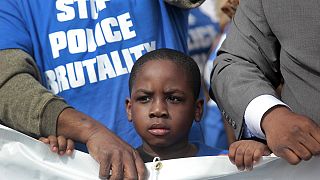 Marches, vigils and die-ins became a familiar sight on the streets of US cities in 2014. A string of high-profile shootings involving white police officers and unarmed black men proved a tipping point in race relations. Protests spread from coast to coast in scenes which recalled the civil rights rallies of the 1960s. As in the past, tensions between the police and black communities proved the flash point.
The fear and mistrust of the police reached fever pitch in Ferguson, Missouri on August 9, 2014, when a white police officer shot dead a young, unarmed black teen; Michael Brown. His death came to symbolise a systemic problem, the unfinished business of civil rights.
"This is just not about Ferguson," explained St Louis Church Pastor Clinton Stancil.
"This has been going on in every city in America. Black young men have been marginalised, they have been dehumanised in every city in America, and so this is just, I think the Ferguson situation and Mike Brown situation has brought this whole thing to a head."
This time the case went all the way to the top. President Obama called on Attorney General Eric Holder to launch an investigation into the Ferguson Police Department's practices.
Following months of deliberation a grand jury decided not to indict Officer Wilson, the policeman who fatally shot Michael Brown.
Speaking after the grand jury decision in November 2014, President Obama called for calm, but weighed in on the debate saying peaceful protests were necessary to address the problems of systemic discrimination.
"We need to recognise that the situation in Ferguson speaks to broader challenges that we still face as a nation," said Obama. "The fact is in too many parts of this country a deep distrust exists between law enforcement and communities of colour. Some of this is the result of the legacy of racial discrimination in this country."
In a separate investigation Officer Wilson was cleared of civil rights violations, however, the same report slammed the Ferguson Police Department's (FPD) unlawful bias against African Americans.
Tensions continued into 2015 when Ferguson Police Chief Thomas Jackson resigned on March 11, in the wake of the Justice Department's scathing report into police practices. Demonstrators gathered outside the FPD and two police officers were shot.
On April 7 Missouri residents elected a black man and a black woman to Ferguson's city council in the first municipal elections since the fatal shooting of Michael Brown. As with the police, the city's leadership has long been dominated by whites though two-thirds of the population are black.