Calls for calm as South Carolina protesters voice their anger over shooting
Comments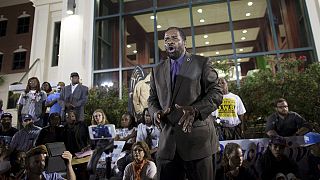 Civil rights leaders have called for calm following the charging of a South Carolina police officer with murder for shooting a black man in the back as he fled.
Although highly charged with emotion protests have so far not tipped over into the violence shown after the shooting of Michael Brown the unarmed teenager in Ferguson last year.
Protests follow police killing of #WalterScott in South Carolina: http://t.co/s8SSy6dmuqpic.twitter.com/3oQ6EjAc18

—

VICE

News (@vicenews) April 8, 2015
"I am here on behalf of every father in this nation to say I am tired of seeing this weekly, daily, every 23 or 28 hours a young black man is killed by the arm of a police officer, " said one protester as others chanted "we are human too".
it's going to be a long time before we get over this
The family of 50-year-old Walter Scott is trying to come to terms with his death which happened on Saturday in the town of North Charleston.
The victim's brother Anthony Scott was asked how they were coping:
"At this point we're coming along, but it's going to be a long time before we get over this. Because just like me and my brother. He's the middle guy. He's the nucleus."
#WalterScott mom: I feel forgiveness in my heart http://t.co/zp7mzy63taAC360</a> <a href="https://twitter.com/andersoncooper">andersoncooperpic.twitter.com/lutcZzgsfO

—

CNN

Video (@CNNVideo) April 9, 2015
Local, state and federal officials have been quick to condemn the actions of Police officer Michael Slager who was charged after a witness came forward with a video of Saturday's shooting.
In the footage Scott can be seen running away from Slager who fired eight times.
According to a police report, the officer told colleagues the suspect had taken his taser gun from him. Footage does not show the initial encounter between the two men, however later on Scott does not appear to be armed.
Following the handcuffing, Slager is seen walking back to the area from which he originally opened fire. He appears to pick something up, return to where Scott is lying, and drop the object near to his feet.
Officer Slager radioed in Taser claim six seconds after firing final shot. Must listen. #WalterScotthttp://t.co/kWsZVOiZII

— deray mckesson (@deray) April 9, 2015
According to police Slager originally stopped Scott for driving with a broken brake light.
A local news outlet "The Post and Courrier" reports there was a family court warrant out for Scott's arrest on the day he was killed. Scott's arrest history mostly shows he was in contempt of court charges for failing to pay child support, although there was also one account of a violation stemming from an assault and battery charge in 1987, according to the newspaper.
The paper also reported that Slager had been accused in 2013 of shooting a man with a stun gun without cause. However, he was cleared of wrongdoing and had not previously been disciplined by the department.