Netanyahu seeks fourth term in tight race
Comments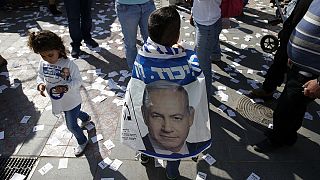 Millions of Israelis have voted in a tightly fought election with Prime Minister Benjamin Netanyahu facing an uphill battle. A strong campaign by the centre-left opposition threatens to deny him a fourth term in office.
Nethanyahu has focused on security, Iran's nuclear programme and militant Islam. But many Israelis say they are tired of hearing the same message.
Netanyahu's main challenger is Isaac Herzog, leader of the Zionist Union alliance. He's partnered with Tzipi Livni, a former justice minister and negotiator with the Palestinians.
Their campaign has made headway by focusing on social and economic issues that matter to voters, such as the cost of housing and everyday living in Israel.
Even if Natanyahu loses the vote, he is probably in a better place to form a coalition because there are more parties on the right and far-right.
If the centre-right wins by four or more seats it should be asked to form a government.
On Monday, Palestinian protesters clashed with Israeli troops near a Jewish settlement outside Jerusalem.
Netanyahu has ruled out establishing a Palestinian state and vowed to beef up building settlements.