Prayers in Syria as fears grow for 200 Christians held captive by ISIL
Comments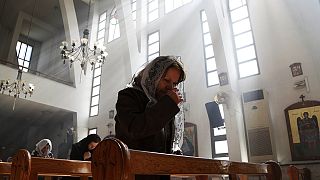 As fears grow for an estimated 200 Assyrian Christians still in the hands of ISIL after mass abductions in northeast Syria last week, worshippers near Damascus have been praying for their safe release.
If the situation remains as it is, no one will stay
Their mass on Sunday at the Ibrahim al-Khalil church in Jaraman came as activists reported that 19 captives had been freed – but only after handing over cash in the form of a tax on non-Muslims.
The group calling itself Islamic State has killed members of religious minorities and Sunni Muslims who do not swear allegiance to its self-declared "caliphate".
Assyrians are one of the world's oldest Christian communities.
Defending their heritage, some in Iraq say they have no intention of fleeing. But others acknowledge it is a difficult choice.
"No one wants to leave his country, but the situation is forcing people to do that," said Manhal, a displaced Christian who fled to Kirkuk from Mosul, which is under ISIL control.
"There is no stability. Our children are afraid and so are we. We keep moving from one place to another. If the situation remains as it is, no one will stay. We want peace and we want Iraq to be as it was before.
"When the situation gets back to normal in Iraq, all the people will go back to their homes."
Some Assyrians have fled to Lebanon where a march demanding international protection was held in front of the UN building in Beirut on Saturday.
Amid ISIL's extremist rampage in Syria and Iraq and its beheading of 21 Egyptian Coptic Christians in Libya, many attending claimed the world is standing by as a genocide is unfolding.