At least 70 dead as overcrowded river ferry capsizes in Bangladesh
Comments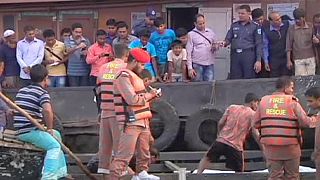 The death toll from a weekend ferry disaster in Bangladesh has risen to at least 70 including many women and children.
The official search for more bodies by divers was called off after the ferry was brought to the surface and towed to the shore.
Up to 140 passengers were thought to be on the overcrowded boat when it capsized after being hit by a cargo vessel.
It's the seventh crash this year on the country's waterways.
One distraught man told reporters that he had lost his one-year-old son and his wife to the disaster.
The collision happened on the Padma River, one of the country's largest, where overcrowding and poor safety standards are often blamed for ferry disasters.