Haiti protesters call for 50 percent cut in fuel price
Comments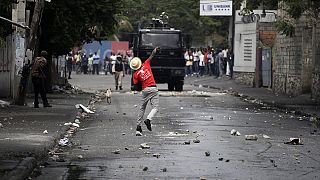 In Haiti's capital Port au Prince, protesters threatened to disrupt Carnival celebrations which are due to take place on Sunday.
They're angry at the cost of fuel which they say is nearly twice the price it should be, following a large fall in international oil prices.
Police used tear gas briefly to disperse the crowd.
Amid political and economic crises in the country, demonstrators demanded the resignation of President Michel Martelly.
Elections, which are three years overdue, are set to be held this year after the president reached an agreement with the opposition to form a new government.