Kyiv begins evacuation of civilians from the under fire town of Debaltseve
Comments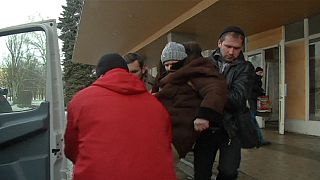 The Ukrainian government has announced an evacuation programme for civilians living in and around the town of Debaltseve.
The important railway transport hub is the scene of heavy fighting between the Ukranian army and separatist forces.
Around 20,000 people have been trapped in the crossfire and shelling and the casualties continue to mount.
In Kyiv Ukraine's Prime Minister Arseniy Yatsenyuk announced the evacuation plan:"Last night I instructed the State Emergency Service to immediately remove people from Debaltseve. There are now a total of six buses involved. They are constantly under fire. When they see that we are getting people out, they start shelling. Fortunately no-one has been injured yet."
Volunteers from the capital are travelling to Debaltseve to assist in the operation.
On Friday the United Nations voiced concern about the deteriorationing humanitarian situation in the town.