No end to fighting in Ukraine in sight as talks in Minsk fail
Comments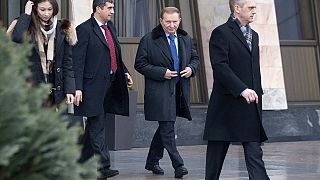 Talks between the Ukrainians, Russians, pro-Russian separatists from eastern Ukraine and the OSCE have collapsed without agreement.
The talks were being held in Minsk, the Belarus capital, to try and end an upsurge in fighting in Ukraine that has shattered a ceasefire and led to heavy casualties on both sides, including civilians.
The hope had been that a new ceasefire could be arranged, but Ukraine's representative, former president Leonid Kuchma, said the talks failed after the representatives of the self-styled Republics of Luhansk and Donetsk started making ultimatums, and refused point-blank to engage in a new ceasefire or discuss the withdrawal of heavy weapons.
He laid the blame for the breakdown squarely on the separatists' shoulders, adding Ukraine would not accept any ultimatums.