US and India seal civil nuclear deal
Comments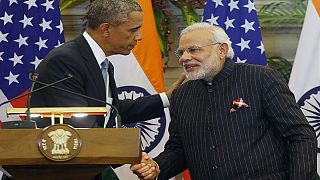 The United States and India have sealed a civil nuclear deal.
US President Barack Obama held talks with Indian Prime Minister Narendra Modi in New Dehli on Sunday.
"We are committed to moving towards full implementation," Obama told a joint news conference with Modi in the Indian capital. "This is an important step that shows how we can work together to elevate our relationship."
Presidential namaste MT IndiaToday</a>: Difficult to match this grand welcome to New Dehli <a href="http://t.co/C9DKXpYMXL">pic.twitter.com/C9DKXpYMXL</a></p>&mdash; Keith Walker (KeithWalkerNews) January 25, 2015
The agreement resolved differences over the liability of suppliers to India in the event of a nuclear accident and US demands on tracking the whereabouts of material supplied to the country, US ambassador to India Richard Verma told reporters.
"Ultimately it's up to the companies to go forward, but the two governments came to an understanding," he added.
Signalling his determination to take ties to a higher level, Modi broke with protocol to meet and bear-hug Obama as he landed in New Delhi earlier in the day. It was a remarkable spectacle given that, just a year ago, Modi was persona non grata in Washington and denied a visa to the United States.
After a working lunch that included kebabs made with lotus stem, figs and spices, the two leaders got down to talks to finalise agreements on climate change, renewable energy, taxation and defence cooperation.
Earlier on Sunday President Obama laid a wreath at Mahatma Gandhi's memorial.
He offered handfuls of flower petals into it and stood in silence before making a round of the memorial wearing socks.
Obama also planted a sapling on the grounds and then wrote in the visitors' book.
Obama signs the visitor's book in Rajghat the_hindu</a> <a href="http://t.co/ddamsV9Saz">pic.twitter.com/ddamsV9Saz</a></p>&mdash; Smriti Kak (smritikak) January 25, 2015
The two leaders have worked to reach agreements on climate change, taxation and defence cooperation in time for the visit.
Obama said that deepening ties with India is a foreign policy priority for his administration.
Both men said Obama's visit to India has been more than symbolic and produced considerable progress.
But Modi cautioned that work was still needed to create a solid partnership between the world's two largest democracies.
"We have to convert a good start into lasting progress. This requires translating our vision into sustained action and concrete achievements," he said, standing next to Obama.
Tea over….conversations continue. pic.twitter.com/zRLzynFyTw

— Syed Akbaruddin (@MEAIndia) January 25, 2015