[WATCH] Video emerges claiming to show fresh fighting between Syrian Kurds and Assad forces
Comments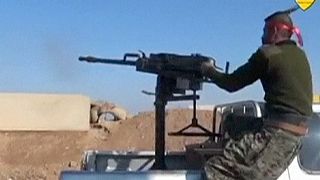 A video has emerged purporting to show the Syrian Kurdish People's Protection Units (YPPG) battling against forces loyal to President Bashar al-Assad.
If verified, the fighting would break an unspoken agreement between the two groups to focus on other sides – namely the self-styled Islamic State jihadist group – in the country's complicated civil war.
The Syrian Observatory for Human Rights said violence broke out in Hassakeh in the predominantly Kurdish north east.
Army soldiers and allied militiamen reportedly took control of buildings in an area that was supposed to remain demilitarised.
Meanwhile, reports suggest more than a thousand civilians have been evacuated from the town of Douma, near the capital Damascus.
The mass exodus was purportedly part of an effort to remove Syrians from danger and harsh conditions brought on by the nearly four-year war in the country.
Bashar al-Assad's troops are thought to have assisted with the operation.