Protest in Vienna after café ejects kissing lesbian couple
Comments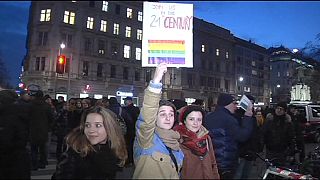 A kiss is just not a kiss it seems for some in Austria.
More than a thousand people joined a gay rights protest in Vienna on Friday after a lesbian couple were thrown out of a café for kissing in public.
The decision by the shop's owner sparked a storm on social media and a few locked lips in solidarity.
A Vienna cafe banned a lesbian couple. Vienna responded with a thousand-strong kiss-in – http://t.co/4SEABXNYtEpic.twitter.com/iIXTJttWmu

— #voice (@mituvoice) January 16, 2015
One of the women expelled, Anastasia Lopez, told the rally: "I wanted to speak to the owner and she told us that what we were doing was disgusting and that she was disgusted by us, that what we were doing belonged in a brothel and not a traditional Viennese café."
The couple at the centre of the storm claim they had merely exchanged a kiss as a greeting.
Christl Sedlar, the owner of the café, later expressed regret over the incident and apologised, saying she had overreacted.
But elsewhere in the city dozens of people took the streets in support of her earlier stance.
"We are here to send a message of solidarity with the owner of the café Prueckel because we think that the owner has the right to decide who is allowed to drink
coffee there," said one demonstrator.
Vienna's café scene is still very conservative and traditional but the case demonstrates Austria's growing contrasts.
Since Conchita Wurst Eurovision song contest success last year, Vienna has become a top destination for gay tourists.
Kiss-in protest to take place at Vienna café where lesbians kicked out for kissing http://t.co/cPVdJG82QDpic.twitter.com/nFHeGYwW0Z

— PinkNews (@pinknews) January 16, 2015
A NEWKISSFORVIENNA! #KuessenImPrueckel#Prueckel#Vienna#Klimtpic.twitter.com/gjkeGWykwT

— NeW AiR (@NeW_AiR) January 15, 2015