Italian aid workers held hostage in Syria are freed
Comments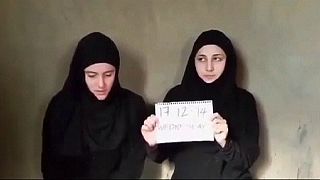 Italy's government has announced the release of two young aid workers taken hostage in northern Syria last summer.
In a video released two weeks ago, it was claimed that Greta Ramelli, 20, and Vanessa Marzullo, 21, were being held by the al-Nusra Front, al Qaeda's branch in Syria.
The video published on YouTube showed the two women sitting and dressed in black robes and veils. One held a sign giving the date as Dec. 17, 2014.
The women said they could be killed and that the Italian government was responsible for their lives.
In August, the foreign ministry in Rome announced the pair had been seized while working on a humanitarian project in Aleppo province.
No details about their release were provided but there is speculation that a ransom of more than 12 million euros may have been paid.