Hundreds still awaiting airlift on stricken Greek ferry
Comments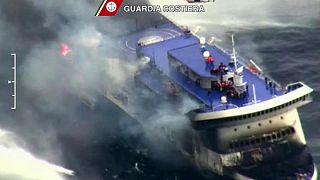 At least 190 people are now known to have been plucked from a burning ferry, adrift off the Greek coast.
Hundreds remained trapped onboard as rescue teams worked into the night to pull passengers from the Norman Atlantic.
Travelling to the Italian city of Ancona from Patras in western Greece, the ship was around 70 kilometres off the island of Corfu. when a blaze broke out on its lower deck.
This footage showed how close passengers came to the raging fire.
The Greek coastguard praised the response: "Superhuman efforts are being made in a hugely difficult operation carried out in extremely bad weather conditions as there are winds of 7 (on the Beaufort scale) in the area that are getting worse. Aerial operations will continue regularly throughout the night if necessary."
Strong winds on the Adriatic Sea made the rescue operation hazardous.
Officials have confirmed that at least one man has died and four others have been injured.
In Italy, many of the passengers were treated for dehydration and hypothermia.
Hospital officials said they had crisis teams on standby and were expecting more injured arrivals.