Hundreds still stranded on burning ferry off coast of Greece
Comments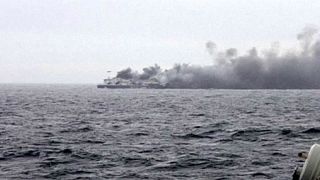 At least 190 of the 478 passengers on board an Italian ferry that caught fire early on Sunday have been rescued.
Meanwhile, the Italian coastguard has said they've retrieved the body of a man believed to have been on the ship.
The teams involved in the operation have been battling high winds and stormy seas, which has impeded efforts to rescue the remaining people on board the vessel.
The "Norman Atlantic", which was also carrying more than 200 vehicles, was near the holiday island of Corfu when the captain requested an evacuation.
It was travelling to Ancona in Italy from the Greek port of Patras with a stop in the city of Igumenitsa.
Greek rescuers have been joined by their Italian and Albanian counterparts.
A fire-fighting vessel has been trying to approach the ferry and tug boats have reportedly been sent from Greece and Italy.
The majority of those on board are reportedly Greek with the remainder made up of Italians, Turks, French and Germans.