Rescue operation to save 500 on board burning ferry off Greece
Comments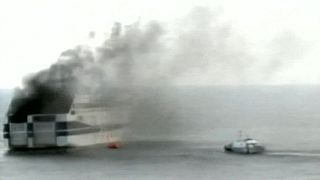 An operation is underway to rescue over 460 people on board a car ferry that caught fire off near the Greek holiday island of Corfu.
High winds and rough seas are hampering efforts to reach the vessel, the Norman Atlantic, which was en route to Ancona in Itay from the Greek port of Patras with a stop in the city of Igumenitsa.
It remains unclear whether there have been any casualities or if any people are in the water.
However, Greece's Shipping Minister has reportedly said 35 passengers have managed to board a nearby container ship from a rescue boat carrying around 150 people.
Greek rescuers have been joined by their Italian and Albanian counterparts as well as a number of private vessels.