New Easyjet strike called in France over New Year
Comments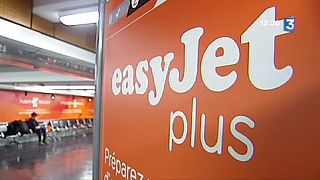 Unions representing French cabin crews have called a new strike for December 31 and January 1.
It follows an initial stoppage on Christmas Day (December 25) and Boxing Day (December 26), which led to nearly 40 cancellations at the British airline's French operations on Friday.
Cabin crew unions are demanding a larger share of Easyjet's profits for employees as well as improvements to working schedules and staff benefits.
Nearly 40 internal flights in France, out of a total of 185 operated by French crews, were cancelled on Friday.
"It was very surprising to get just an email to say 'your flight has been cancelled, there you go, you can either be reimbursed or log in online', and when you phone up you're charged for the call," said one young female passenger.
Unions claim that whereas operating profits have risen by over 20 per cent, staff are being denied benefits.
"Some rights for all French employees, such as "1% housing" (employers' obligations towards housing costs), access to professional training and profit-sharing – despite the fact that Easyjet has had an agreement on this since 2009 – we are not getting these rights," said Laurent Nicolas, a delegate from the SNPNC-FO union.
Easyjet argues its cabin crews are among the best paid in France after successive pay rises above inflation.
It said extra crews flown in from Britain had limited Friday's disruption.
One union leader complained that it was a tactic designed to "break the strike".
Laurent Nicolas of the SNPNC-FO also denounced a "massive deployment of air hostesses and stewards from abroad and notably the United Kingdom" on Thursday, claiming that the flight crews were "motivated by a bonus of up to £110 (around 140 euros) for the day".