Flags fly at half-mast across Sydney after the violent end to a cafe siege
Comments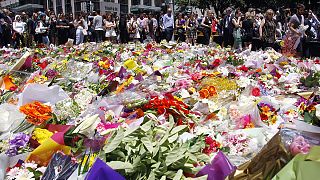 The people of Sydney woke up on Tuesday morning to the news that heavily armed police stormed a cafe overnight ending a siege in a coffee shop.
Two of the 17 people being held were killed along with the gunman.Questions are being asked as to how it could happen. Flags are flown at half mast across the city.
Health worker Emma Craig spoke for many when she asked how could such a tragedy occur to people going about their ordinary lives:
"It's absolutely devastating that it could happen and that just anyone going to get a coffee in the morning and to have something so tragic and horrible happen to them."
Executive Mark Harrison was also bewildered:
"I think everyone's just in shock and trying to come to grips with it and try to understand, but it's too difficult to understand," he said.
Prime Minister Tony Abbott has already warned Australians to be ever vigilant:
"These events demonstrate that even a country as free, as open, as generous and safe as our is vulnerable to act politically motivated violence. But also it reminds us that Australia and Australians are resilient and we are able to respond."
An investigation is being launched to determine whether the hostages were killed by the gunman or died in crossfire. Police are also looking into whether the armed man was linked to any jihadist organisations or was acting on his own.