Two hostages and gunman dead after police storm Sydney café where 17 were held hostage
Comments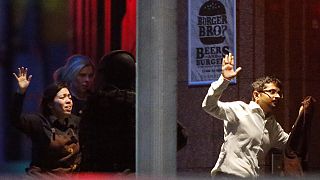 A hostage crisis in Australia has come to a dramatic and tragic end, 16 hours after it first began.
Three people, including the lone gunman, are dead after police stormed a café in Sydney where 17 people were taken hostage.
The hostages killed were a 34-year-old man and a 38-year-old woman. Several other people were injured.
There was an exchange of gunfire and stun grenades were thrown into the Lindt chocolate shop and café before it was stormed by officers.
Medics attempted to resuscitate at least two people on the pavement in front of the café.
Up to 10 people managed to escape and run to safety before the police raid.
Several injured people were seen being evacuated from the scene by ambulance. Four people are reported to be in a serious condition.
TV images showed medics attempting to resuscitate at least two people on the pavement in front of the café.
Hostages were seen running from the building just before the armed police moved in.
The New South Wales Police Commissioner, Andrew Scipione, spoke about the decision to storm the café.
"That's a decision that was made by the teams responsible; these are the experts," he said.
"What we don't do is compete with those that have to make that call. They made the call because they believed at that time if they didn't enter there would've been many more lives lost.
"This was an isolated incident; it is an isolated incident. Do not let this sort of incident bring about any loss of confidence about working or visiting in our city."
The gunman was identified as Man Horan Monis, an Iranian refugee and self-proclaimed cleric. He was known for his fierce protests against Australia's involvement alongside the US in foreign conflicts.
Monis also had a long history of violent offending, including sexual assaults, and was on bail on a charge of being an accessory to the murder of his former wife, who was stabbed and burnt to death.
Police first surrounded the café in Martin Place just before 10 am on Monday morning, close to the city's central business district.
The incident started when witnesses say they saw a man with a bag walk into the shop and café.
The company said about 10 employees and around 30 customers were in the café at the time, but police said it was less than that.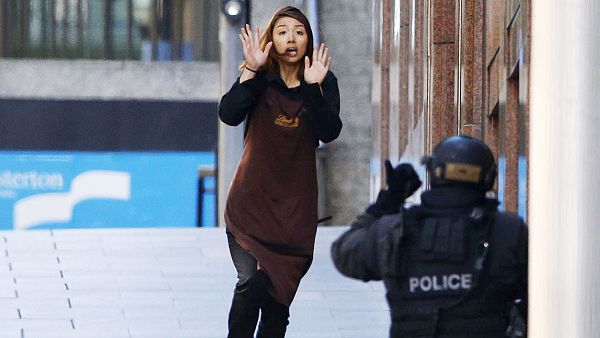 Nearby offices and other buildings were cleared by officers as soon as the situation became apparent.
About six hours after the start of the siege three staff were seen running from the premises, with two customers following around an hour later. It is not clear if they escaped or they were released.
At one point a black flag with Arabic script on it was held up to a window.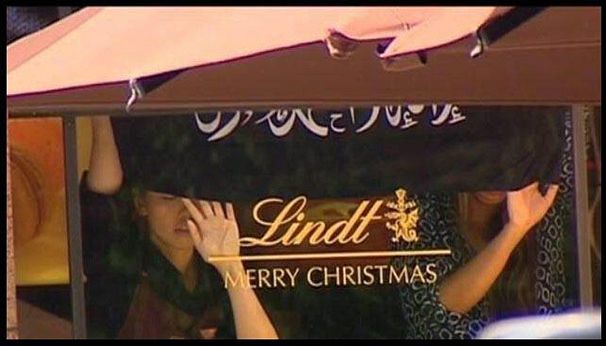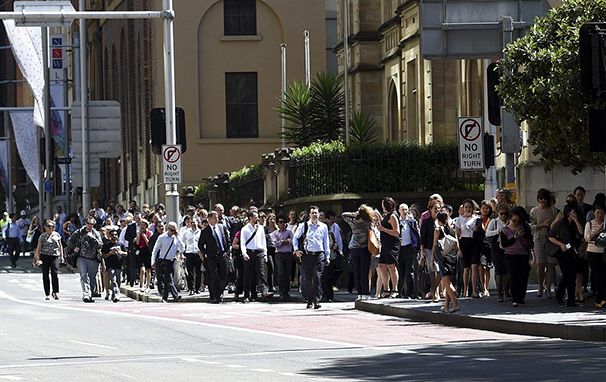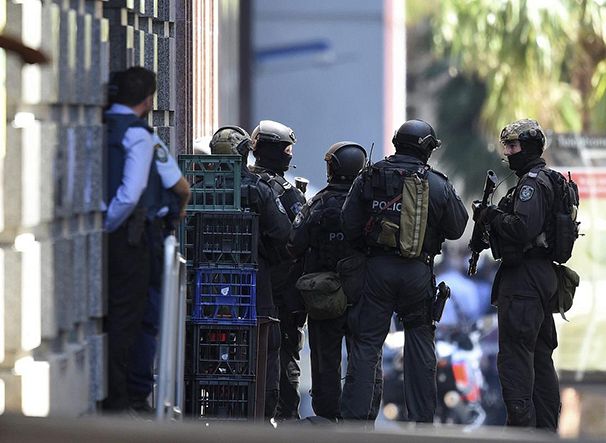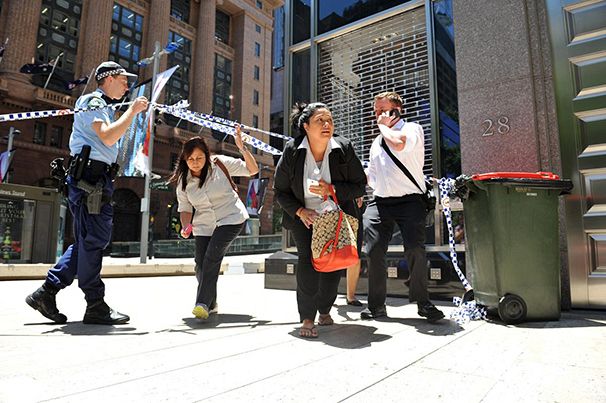 Prime Minister Tony Abbott, who has warned of militant plans to attack Australian targets, convened a meeting of the cabinet's national security committee for a briefing. In a statement earlier he said the incident was "politically motivated".
Australia, which is backing the United States and its action against Islamist militants in Syria and Iraq, is on high alert for attacks by radicalised Muslims or by home-grown fighters returning from the conflict.
Mosques, synagogues and churches across Australia had earlier invited the public to pray for a peaceful resolution to the siege.
A coalition of Muslim organisations condemned the hostage-taking.
A hashtag has arisen showing support for Australian Muslims #illridewithyou has been mentioned more than 40,000 times in the past two hours. 702 ABC Sydney have received calls from Muslim listeners saying they were afraid to ride on public transport.
In the past 2 hours there have been more than 40,000 mentions of #illridewithyouhttp://t.co/1nLr4EqqBn#sydneysiegepic.twitter.com/X9Sb2fbGAy

— Twitter Australia (@TwitterAU) December 15, 2014
I wasn't planning on going out tomorrow but if you need a bus/train/walking/whatever buddy, let me know. #illridewithyou

— Brianne Worth (@ruckuslike) December 15, 2014
Practical thing: I've made a temporary sticker for my bag so people who need me can spot me #illridewithyoupic.twitter.com/aVldEn9wVU

— Kristen Boschma (@Kristen_Boschma) December 15, 2014
This is me on the tram: if you feel vulnerable because dickheads & you see me, let's travel together. #illridewithyoupic.twitter.com/fgMy1sgXRu

— St Comrade Badhamus (@vanbadham) December 15, 2014