Lindsey Vonn returns to winning ways in World Cup downhill
Comments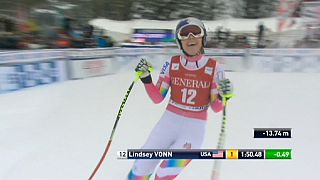 Lindsay Vonn won her first race for 22 months when she clinched victory in the Women's World Cup downhill at Lake Louise in Alberta. In the past it has been dubbed 'Lake Lindsey' and so it was again.
The American skier has now won 15 of her 60 World Cup victories at Lake Loiuse.
She was sitting eight on her first programmed run on Friday but she showed all her old verve and skill using the large bends in the piste to power her to a time of 1:50.48 seconds on her second run on Saturday.
"I fought so hard to be back where I am, at the top of the podium," she said, "it's like a dream day."
Vonn led the first clean sweep of World Cup podium places for the US Ski team as compatriot Stacey Cook came in second, a margin of 0.49 seconds behind. Julia Mancuso completed the US one-two-three.
But it was a day the focus was on Vonn and her remarkable victory. She is now just two wins short of the all time record of 62 held by Austria's Annemarie Moser-Proell.