"Stephen's Story" cancer campaigner dies, aged 19
Comments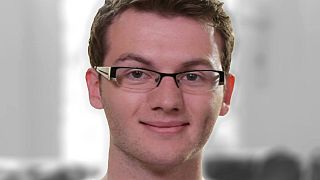 A British teenager who raised over 3.9 million euros for the charity Teenager Cancer Trust has died peacefully in hospital, aged 19.
Stephen Sutton, who was suffering from an incurable form of bowel cancer, touched thousands of people through a campaign called Stephen's Story, which he set up across a range of social media platforms to raise money for the cancer charity.
His mum announced his passing in a statement on the Stephen's Story Facebook page.
Several celebrity figures have taken to social media to send messages of support to Stephen's family, with British Prime Minister David Cameron tweeting his condolences.
I'm deeply saddened to hear that Stephen Sutton has died. His spirit, bravery and fundraising for cancer research were all an inspiration.

— David Cameron (@David_Cameron) May 14, 2014
Stephen's audience reached new levels shortly before his death, when he posted a photo of himself giving a "thumbs up" after being admitted to hospital with a collapsed lung.
Now an iconic image in Britain, the picture prompted dozens of celebrities to endorse his fundraising campaign, all using the hashtag #ThumbsUpForStephen.
Hey help this brave lad please – he's making the world better! #ThumbsUpForStephenpic.twitter.com/0Xzu0cIF3G

— Russell Brand (@rustyrockets) April 23, 2014
Thousands of well-wishers were captivated by the teenager's positive attitude, donating money and leaving messages of support on his social media pages.
He explained during an interview that he decided to raise as much money as possible when he was told his initial bowel cancer had spread to his pelvis and lymph nodes and was diagnosed as incurable. "That's when I stopped measuring life in terms of time and started measuring it in terms of what I could actually do."
On Stephen's Facebook page he outlined a 'bucketlist' of 46 things he wanted to achieve in the following year. From "ride a segway" to "organise a charity gig", Stephen ticked off an impressive 34 of these goals over the following months, including smashing his initial target to raise £10,000 for his charity.
Stephen chose to support the Teenage Cancer Trust; a relatively small charity he said had helped him to deal with his eventual diagnosis. The charity's director of fundraising said the funds raised through the "Stephen's Story" campaign had already eclipsed any previous donations.
Photo credit: Stephen's Story (Facebook)