First chemical weapons leave Syria
Comments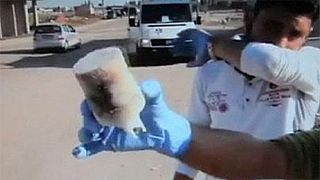 The first batch of chemical weapons has left Syria, it's been confirmed.
They have been moved from two Syrian sites and onto the port city of Latakia. They were then transferred onto a Danish vessel, which has left the port escorted by ships from China, Denmark, Norway and Russia.
They are due to be later taken into international waters for destruction.
"The vessel has been accompanied by naval escorts provided by Denmark and Norway, as well as the Syrian Arab Republic," the Organisation for the Prohibition of Chemical Weapons (OPCW) said in a statement. "It will remain at sea awaiting the arrival of additional priority chemical materials at the port."
Syria agreed to handover its chemical weapons by June after the United States threatened military intervention.
Syria missed its first deadline on December 31, for the removal of the most deadly toxins from the country.
The OPCW did not say what percentage of the "most critical" chemicals, including around 20 tonnes of mustard nerve agent, were on the Danish vessel.
"A first quantity of priority chemical materials was moved from two sites to the port of Latakia for verification and was then loaded onto a Danish commercial vessel today," the OPCW statement said.
The Syrian government is responsible for the safe packaging, transport along roads to Latakia – including the main highway from the capital where rebels are still active – and removal of chemical weapons.