Educating tomorrow's scientists
Comments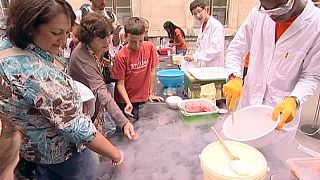 Science, with all its facts and figures, can be a tough subject to learn and just does not appeal to some. But it can be a lot of fun, and that is the main message of the Science Academy Festival in Paris. It encourages young learners to open their eyes and see the wonders of the world behind the dull textbooks and dry statistics. It also aims to challenge the traditional, negative view of making mistakes.
Livio Riboli-Sasco, Founder and spokesperson of Paris Montagne Association explained: "The idea isn't simply to say that science is a life opportunity for young people. It's a way of exploring a scientific approach, of adopting an attitude of questioning things as people do in society."
Research scientist François Taddéi said: "Science is usually taught at school by telling pupils "look these are the facts, now learn them by heart" —how an aeroplane works, how a computer works. But science is also about research, exploring byways and backroads without really knowing where you are. By developing ideas, exploring them, you might trip up and make mistakes, but you learn through these mistakes, you improve and progressively develop new things."
Reality TV might not seem the most fertile ground for scientific inspiration but one popular show in Qatar is taking the format in an entirely new direction. 'Stars of Science' throws together young people from across the Arab world in a fun-filled but challenging environment. We took at how inspiration meets entertainment in Doha.
In each series, 16 young students compete to produce the best scientific invention. It is a challenge both for the students and for the final jury. The top four prizes total 600,000 US dollars. During the show students work with professors and use the facilities at Qatar's Science and Technology Park, which is also a start-up incubator. The park is run by Qatar Foundation. The country is obviously investing in its educational institutions as well as its students, although in some other Arab countries there is still work to be done.
In South Africa the founders of the 'Next Einstein initiative' at the African Institute for Mathematical Sciences certainly hope so. Centres of excellence are springing up across Africa, giving new opportunities to tomorrow's scientists and mathematicians.
On the Cape Peninsula, the absolute southern tip of Africa, some of the Continent's brightest young minds are at work. The African Institute for Mathematical Sciences is an oasis of maths and science for Africa's young people.
Out of 500 applicants from all over Africa, only 50 students are selected for this programme. They all have a degree in physics, mathematics, engineering or computer sciences. At the Institute they are taught by lecturers from all over the world – and are aiming for the heights of intellectual achievement.
Students here have research tools which are not always available at African Universities. The institution also provides networking opportunities, which opens many doors for graduates.