More pain in Spain: government passes austerity plan
Comments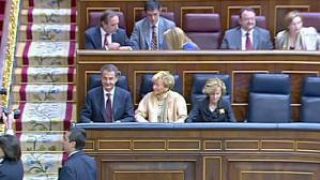 There has been temporary relief for Spain's governing Socialists as parliament approved their 15 billion euro austerity package.
But it was the closest of close calls – the motion was passed by only one vote.
"It was tough legislation to get through. We will try and make sure there is more agreement on any future reforms. I want to thank those who made it possible to get this through." said Prime Minister Jose Luis Rodriguez Zapatero.
The opposition Popular Party voted against the bill – it was only saved when 10 members of the Catalan nationalist party CIU abstained.
"This law has been cobbled together, it's insufficient and unjust." said opposition leader Mariano Rajoy.
"We know that this is not good legislation, but not approving it would be even worse for the country and the people.", said Ana Oramas from the Coalicion Canaria.
The razor-thin majority has raised doubts about the government's ability to steer Spain through its economic crisis.
The unions will meet tomorrow to decide how to respond to the austerity plan, which includes wage cuts for public officials.
They have warned a general strike is likely.