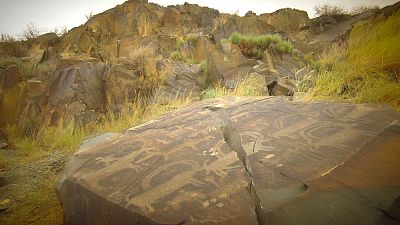 Our postcard this week offers a glimpse into the distant past, with prehistoric images in the Kazakh region of Almaty.
Stunning rock carvings or petroglyphs can be found at Tanbaly (sometimes written as Tamgaly), about 170 kilometres northwest of Almaty city.
Key facts about the Kazakh region of Almaty:
The region is in the country's southeast
It shares a border with Kyrgyzstan & China
It covers an area of 225,000 sq kms
The city of Almaty is the country's largest
It is a former capital of Kazakhstan
 
Euronews' Seamus Kearney reported: "More than 5,000 different petroglyphs were discovered by an archaeological team in 1957.
"And in 2004 the entire site, including five different locations, was added to the UNESCO World Heritage List."
Rinat Sharipov, a Tanbaly petroglyphs researcher, told Postcards: "Generally we can see petroglyphs with images of animals and people with heads that resemble the sun.
"A lot of the carvings date back to the Bronze Age, between the 14th and 12th centuries BC."
The sacred images – together with altars, cult locations and burial grounds – are testament to the ancient way of life on the steppes of Central Asia.