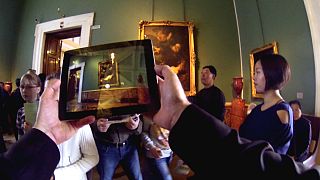 Mention St. Petersburg and what often comes to mind is the wonderful Hermitage museum, a favourite of many travellers.
Key facts about the State Hermitage Museum apps:
Made for iPhone, iPad and Android devices
Main aim is for those planning their visit to museum
Virtual tours include panoramas of popular rooms
Provides information about key artworks and artifacts
Selected history courses are also provided
"And in a good example of the old meeting the new, modern technology has arrived at the State Hermitage, via smartphones and other devices," reported Euronews' Seamus Kearney.
Interactive apps can now be downloaded by visitors wanting to plan ahead, to decide which masterpieces to see if time is limited.
Maria Seklikova from the Hermitage apps team told Postcards: "Since the launch of our application in January 2012, it's been downloaded by tens of thousands of people, and is proving very popular."
The apps include virtual tours for those at home, but also key information when up close to the real thing.
Visit-Petersburg.ru
Saint-Petersburg.com
State Hermitage Museum general website
Hermitage app page