War of words erupts between Gibraltar and Spain over post-Brexit deal
Comments
By Euronews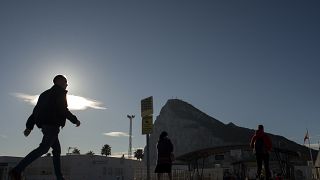 Copyright

JORGE GUERRERO/AFP
A row has broken out between Spain and Gibraltar over which government has the final say on who enters the British overseas territory. 
It comes after an eleventh-hour deal was reached on New Year's Eve between Madrid and London over Gibraltar's future, post-Brexit. 
The preliminary agreement saw Gibraltar become part of the European Union's borderless Schengen Zone.
This means the end of checks at the land border between Gibraltar and Spain. 
Passports of passengers arriving and departing Gibraltar's harbour and airport will be checked by the EU border agency Frontex, in addition to local officials.
Gibraltar's Chief Minister Fabian Picardo claims only his government will decide who enters the territory and that Spanish officers won't exercise any controls at the airport or docks. 
He was responding to a statement by the Spanish Foreign Minister, Arancha González Laya, who in an interview with the newspaper El País stated that "the last word on who enters Gibraltar will be had by Spain."
The preliminary agreement must now be ratified into a treaty, so a process of negotiations will begin soon between Brussels and London. 
"We are now examining the agreement reached in principle between Spain and the United Kingdom on New Year's Eve regarding Gibraltar," European Commission spokesperson Daniel Ferri said. 
"We are working on this and waiting for the [European] Council to get a mandate to begin the formal negotiations."
Negotiations are estimated to last for around six months, but the current sticking point is over Spain's apparent demand that Spanish police be present at Gibraltar's docks and airport.
But this is likely to be a difficult pill for Gibraltar to swallow, according to Jesus Verdu from the University of Cádiz.
"It is difficult for Gibraltar to accept that the last word is going to come from Spain since there is no other option anymore. I believe that Gibraltar will eventually accept it, but it will not be easy. And it will need to be an exercise either of a certain makeup or of compensation for Gibraltar in the negotiating process," Verdu told Euronews.
"Everything seems to indicate that there is a Spanish desire to adopt a very discreet profile in such a way that the presence of uniformed police officers or the civil guard will not be visible in the airport facilities."