Hungary tops EU anti-fraud investigations
Comments
By
Joanna Gill
&
Sandor Zsiros, Jack Parrock, Stefan Grobe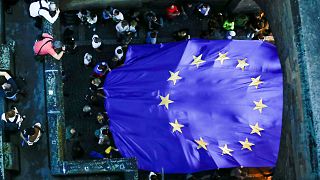 The misuse of EU funds prompted protests around Central Europe from the Czech Republic to Romania in 2019.
OLAF, the EU's anti-fraud agency, has released a report saying almost 4% of development funding that went to Hungary between 2014-2018 is in question, by far the highest percentage in the EU.
The agency recommends the repayment or withdrawal of billions of euros.
"It's important to look always behind the numbers. The numbers are not always telling the whole truth. That's why I am coming (visiting) Hungary too. To discuss with judicial authorities and law enforcement what is behind and if there are problems, let's find together common solutions for those," Ville Itälä, OLAF General director told Euronews.
OLAF makes recommendations for member states to act upon.
But Czech public prosecutors just dropped charges against the former company of the country's Prime Minister Andrej Babis for misuse EU funds.
"I think what stands out most for us, is that member states simply don't seem to be taken the fight against corruption with EU funds seriously. The 36% indictment rate is unacceptable and needs to be addressed. I think the Czech case where the Czech prosecutor decided to suspend the corruption probe into Prime Minister Babis's holdings is an example how member states used to react to OLAF investigations, where they simply drag their feet, don't investigate properly and let the investigation dry up or be forgotten," Nick Aiossa, of Transparency International, told Euronews.
In 2018 OLAF issued 256 recommendations to recover €371 million for the EU budget.