Croatia prepares for EU presidency
Comments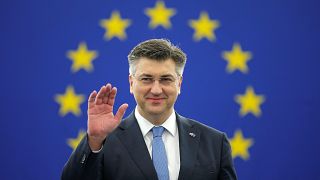 Croatian Prime Minister Andrej Plenković was in Brussels on Wednesday (February 14), meeting with senior EU officials.
On the agenda for Europe's newest member state, its upcoming EU presidency and ongoing integration into the European Union.
"The objective of my government is to bring Croatia into the Schengen zone at least during the Croatian presidency of the EU Council, which is in the first half of 2020," Plenković told euronews. "The plan of Croatia is to be ready to fulfill all the technical criteria by 2019 and than look forward to a political go-ahead from our colleagues".
Croatia is also working to normalise relations with neighbouring Serbia. Leaders met this week in Zagreb, in a bid to resolve issues that have been lingering since 1991, when Zagreb broke away from then-Yugoslavia, setting off years of conflict. More than 10,000 people were killed during the four year war.
"The reconciliation is part of the whole European project, we are jointly working on that," Plenković said. "But we have to also address the issues of the missing persons, we need to address the issues of the protection of minorities, we need to address the border issues, whch are not fully settled among the number of countries within the territory of former Yugoslavia". 
Croatia is also involved in a long-running border dispute with Slovenia.