Serb leader in Croatia for historic visit
Comments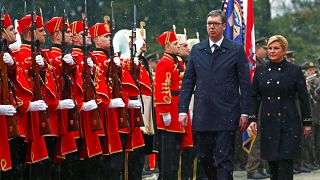 Serbian President Aleksandar Vucic has arrived in Croatia for a two-day visit aimed at mending ties between the former rivals.
Relations between the two neighbours have been strained since 1991, when Zagreb broke away from then-Yugoslavia, setting off years of conflict.
"Unfortunately, the relations between Serbia and Croatia are burdened by the past. We did not speak today about this past. Unfortunately, that past is still preventing us from being able to describe the relations between our two countries as friendly," Croatian President Kolinda Grabar Kitarovic said at a joint press event. "But, it is our obligation, as presidents who are both directly elected by the will of our peoples, to meet and talk, try and find common ground, solve issues that are dividing us".
Hundreds of war veterans and nationalists turn out in Zagreb to protest the meeting and demand reparations from Belgrade, which backed a minority Serb rebellion against Croatian independence.
The leaders are expected to discuss ongoing border disputes, minority rights, missing persons from the war, and cooperation in war crimes prosecutions. The European Union says Serbia needs good neighbourly relations if it wants to join the block of which Croatia is already a member.
A visit scheduled for last year was derailed after Belgrade erected a statue to a soldier considered by Croatia as a war criminal.
Monday's meeting is the first official meeting of Serbian and Croatian leaders since 2013.
More than 10,000 people were killed during the four year conflict which ended in 1995.