EU's Oettinger under fire over lobbyist's private jet flight
Comments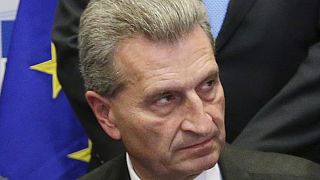 Germany's Günther Oettinger denied on Wednesday any wrongdoing after it emerged he accepted a trip on a private jet from a pro-Kremlin lobbyist.
Just weeks after being forced to apologise over a racial slur, the EU digital commissioner is accused of breaching ethics rules over taking the trip with Klaus Mangold back in May from Brussels to Budapest.
Oettinger says that scheduling issues meant it was the only option available to attend a meeting with the Hungarian government.
"Governments often offer transport & accommodation for missions of Commissioners when they invite for meeting, conference," he wrote on Twitter. "I was invited to a dinner with a Prime Minister to discuss EU digital policies. It is my job to explain & discuss."
EU rules say commissioners cannot accept gifts worth more than 150 euros.
Benedek Jávor, a Hungarian Green MEP, said Oettinger "lacks the integrity" to take up a planned new position as the budget commissioner.
"(The case) raises the question if he is the perfect person to continue as a commissioner of the EU," he told euronews in an interview.
This fresh scandal comes two weeks after Oettinger was filmed derogatory remarks about Chinese officials during a speech to German business leaders.