The EU is finished after Brexit vote, says UKIP's Farage
Comments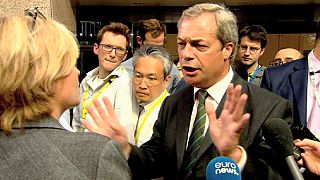 UKIP leader Nigel Farage said on Tuesday that the EU is "dead" and predicted that more countries would hold referendums on their membership of the 28-member bloc.
Speaking in an interview with Danish television, the MEP said that the EU "is dead, it's finished, it's all over. The European Union, it is finished. It doesn't work.
"We just have the honour in Britain of being the first country that rejected membership of it.
"It could be Denmark next, it could be 'Dexit'. It could be the Netherlands next, it could be 'Nexit', It could be Sweden next, which, i guess would be 'Sexit'."
Farage earlier had a testy exchange with European Commission chief Jean-Claude Juncker and fellow MEPs, telling them that they were "in denial" after the UK referendum result.
Former Belgian PM Guy Verhofstadt, now an MEP, hit back at the UKIP leader, likening his refugee poster to "Nazi propaganda."