Accusations fly as Abbas and Rivlin hold separate talks with EU leaders in Brussels
Comments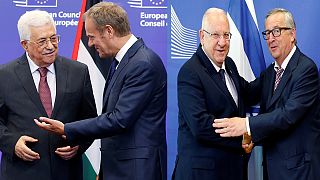 The Israeli and Palestinian presidents were both in Brussels on Thursday for talks with EU leaders. Both with carefully choreographed, separate timetables and agendas.
Although there was no official plan for the two leaders to meet, there was some confusion over whether they might. European Parliament President Martin Schulz said earlier that he hoped the two leaders would accidentally cross paths in the parliament and not run away from each other.
This led Israeli officials to accuse the Palestinian president of turning down an EU initiative to meet.
Israeli president, Reuven Rivlin, told a Brussels press conference: "I was happy to welcome the initiative by the representative of the EU to set a meeting between me and president Abbas, who is also visiting Brussels in this very day. I was very sorry to learn he rejected such a meeting. we will not be able to build trust between us, if we don't begin to speak directly."
Observers pointed out that the previous day, Rivlin had told MEPs that he would not support a French initiative for a peace conference because of the "total lack of trust between the two sides at all levels, from the leadership to the people."
Palestinian President, Mahmoud Abbas, made no comment about any meeting in Brussels but declared he did support the French plan for a peace conference.
"We confirm out support for the the French initiative, which will last until the end of the year with the international conference. We need to establish the basis for the negotiations, how they will be carried out, and how the time will be used," he said.
If the two leaders had crossed paths, it would have been their first meeting since Rivlin became Israel's president two years ago.