Turkey must meet visa requirements, says EU's Juncker
Comments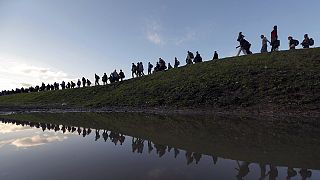 Turkey must meet all the necessary criteria for visa-free travel in Europe, European Commission President Jean-Claude Juncker said on Tuesday.
The former prime minister of Luxembourg made his remarks in an address to the Strasbourg-based right body, the Council of Europe.
"Turkey must fulfill all remaining conditions so that the Commission can adopt its proposal in the coming months," Juncker said. "The criteria will not be watered down."
The comments followed noises by the Turkish government that a migration deal between the EU and Ankara could collapse unless Turkish nationals see visa restrictions eased by June as promised.
"I maintain my belief that, God willing, we will have the visa exemption in June. In the absence of that, then of course no one can expect Turkey to adhere to its commitments," Davutoglu said.
Last month, Turkey and the EU reached a deal aimed at stopping the flow of people into Europe.
Under the deal, Ankara agreed to back all irregular migrants, in return for the EU taking the same amount of Syrian refugees directly from Turkey.
In return, Turkey was promised extra EU funds to house Syrian refugees, and to have short-term visas waived for its citizens before the end of June.
Ankara, however, needs to meet 72 technical requirements before the short-stay visa restrictions are removed in the passport-free Schengen zone.
More than one million people have landed on EU shores over the past year, mostly via Greece from Turkey.